Now that summer has come, there are plenty of healthy summer food options for healthy eating with Celiac Disease.  The one option my children love is visiting our local farmers markets and choosing their favorite vegetables and fruits.
If you are worry about maintaining a gluten-free diet, there are plenty of organic products at a farmers market that don't contain gluten.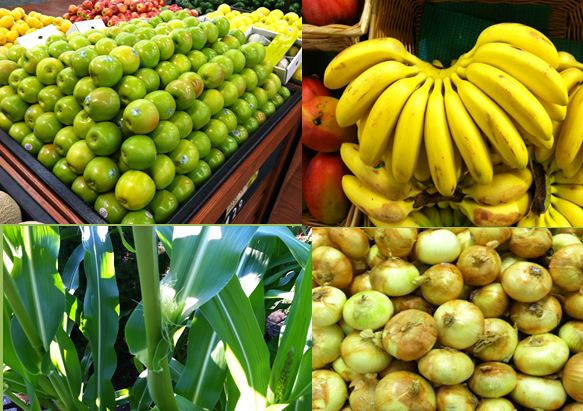 My daughter Cecilia Marie loves the fresh Corn on the cob. She has been diagnosed with wheat allergy. Therefore, just like my son Cesar Michael, she needs to maintain a gluten-free diet.  They both love eating broccoli especially when it is steamed. There is nothing to worry about when you prepare foods from fresh produce from your local farmers.
An advantage of purchasing your products from a local farmer is that you would be able to save money. They sell directly to you, the consumer, minimizing their overhead costs of selling to the big stores.
Buying directly from a farmers market assures you that you are getting organic fruits and vegetables especially when they are certified as organic farmers.
While summer is here, take advantage of consuming healthy foods especially if you need to watch your diet.
We certainly enjoy the fresh, seasonally-grown local food from our New Jersey farmers.  Every Saturday, starting at the beginning of July, we like to shop at the Rutherfod Farmer's Market which is located at the Williams Plaza, downtown Rutherford, New Jersey.
They offer the most delicious corn on the cob, lettuces, potatoes, watermelon, string beans, pickles, green peas, asparagus, mushrooms, bananas, acorn squash, olives, fruits and much more.
To increase your intake of vitamin B, you could include in your meal plan some lean beef, chicken breast, salmon and eggs.
My daughter Cecilia Marie's favorite dish is a plain chicken breast accompanied with lots of broccoli and boiled corn on the cob. On the other hand, my son Cesar Michael's favorite dish is a grilled steak seasoned with olive oil, salt and pepper accompanied with lots of sliced avocados, broccoli, and plenty of sautéed mushrooms.
Visiting your local farmer's market will help you maintain a healthy gluten-free diet. Local farmer's market carries the best healthy summer foods for Celiacs.