A dedicated gluten-free bread Station is the best treat that people with gluten intolerance could even have for breakfast.
I just came back from a business trip, attending the International Woodworking Fair show in Atlanta Georgia. I was very impressed to know that the Omni Hotel at the CNN Center's Prime Meridian Restaurant offered a nice dedicated gluten-free bread station for people with gluten intolerance.
The first thing it came to my mind was that if my son Cesar Michael and daughter Cecilia were with me, they would have been really happy. My son has been diagnosed with celiac disease and my daughter has been diagnosed with Wheat Allergy. They both need to maintain a gluten-free diet.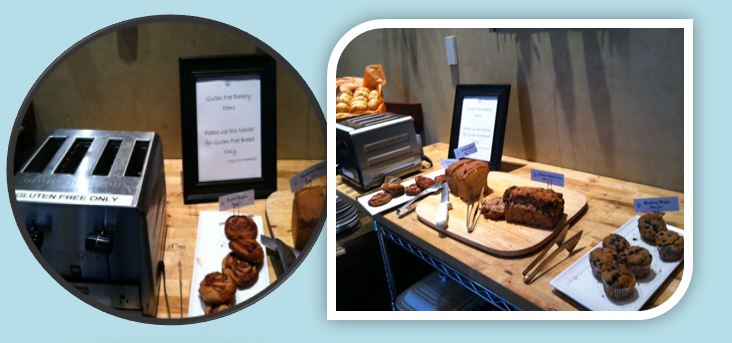 The station had nice assortments of donuts, chocolate chips muffins, and some sort of pound cake as well as sliced breads. I don't know where they get their gluten-free breads but it reminded me of the nice tasty breads of Katz gluten-free which my kids love.
The bread toaster was properly labeled "GLUTEN FREE ONLY." This is to ensure that no other breads are to be toasted there to avoid gluten cross-contamination.
The Prime Meridian Restaurant is a nice place to dine. They offer a breakfast buffet as well as a la carte menu.
The only improvement they need to make, which I pointed out to them, is that they need to have a dedicated butter and jelly station. They had the same butter and jelly for all breads. I understand that we still need a lot of work to educate establishments to fully protect the health of people with gluten intolerance. However, I give them a lot of credit for stepping up and trying to cater people that need to maintain a healthy gluten-free diet.
I showed the pictures to my kids, they were so happy to see them. My daughter Cecilia said, "I wish I was there to enjoy those breads. They look like the delicious sweet bread from Katz gluten-free."
If you are gluten intolerant and find yourself by the Omni Hotel at the CNN center, try out the Prime Meridian Restaurant for breakfast, I am sure you will like it.