Camp Gluten Freedom is a place to spend a great time knowing that your dietary restrictions are taken care of. 
The following a a note from Tina Duncan, Gluten-free Camp Coordinators who contacted me to share with everyone about Camp Gluten Freedom.
"This camp has been my passion since my son's diagnosis in 2007 and we were able to realize the dream in 2011, took a hiatus for a couple years and have partnered with a fabulous organization to keep the dream alive!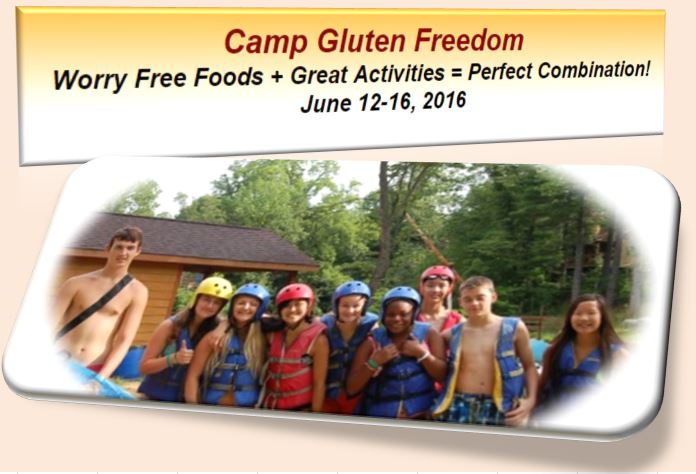 We are so excited to announce that Camp "Gluten Freedom" will be held again at FlatRock River YMCA this summer.   It was a fabulous success last summer and supported by great vendors such as Pamela's, Three Bakers, Schar, Sonoma Flatbread, Surf Sweets, Applegate, Living Now, Sun Butter, Namaste, Full Flavor Foods, Qwackers, Peanut Butter & Co, Georgetown Market, Fresh Thyme and Dr. Praegers.
Worry Free Foods + Great Activities = Perfect Combination!
The integrated "gluten-free" camp will be held from June 12-18, 2016 for kids ages 7-17, but not to despair if you can't make it for that week…. Because…….  Flat Rock is equipped to accommodate our GF kids ALL Year Long.  The menu is awesome all week long and thanks to our vendors we even had a GF PB & Jelly bar with some amazing surprises on it!
If you register by December 31st you will receive $75 off the enrollment fee and like last year we plan to provide bags of surprises to all our GF campers at the end of the week.
Some of the activities include: Arts & Crafts, Alpine Tower, Archery, Basketball, Canoeing, Dance, Fishing, Kayaking, Mountain Biking, Zip-line, Outdoor Skills, Riflery, Rock Climbing, Swimming, Horseback Riding & more!
Questions about Camp?
Call:  Tina Duncan, Gluten Free Camp Coordinator: (317) 379-2350 "
email: tina@glutenfreeallergenfreecamp.com